Automotive Fitment for
With almost 12 million visitors every month and 2 out of every 3 Australian adults having bought something on ebay.com.au in the past year, eBay is a megamall like no other.  An estimated AUD $15.7 billion of automotive parts and accessories are sold globally on eBay each year.
Half of all automotive parts buyers have at least one vehicle in their eBay Garage, and 1 in 12 vehicles on Australian roads are in the eBay Garage!  That's over 1.6 million vehicle owners who will be searching on eBay for parts and accessories to fit their specific model.
Selling parts and accessories for vehicles and motorcycles can be challenging due to the sheer number of products available for all the various models made in recent history, the long tail nature of inventory, and the fact that many motorists won't know what the part they need looks like. 
For many of us, buying car or motorcycle parts and accessories online can be daunting.  For a start shopping online is radically different to ordering a part over the counter at a motor dealership where the customer can interact in real time with a parts interpreter.  There is no substitute for accuracy when it comes to selling online.  If a customer can easily find their specific model and then be assured they will only be seeing parts and accessories that fit it, their confidence is boosted and they are far more likely to purchase.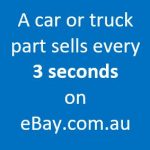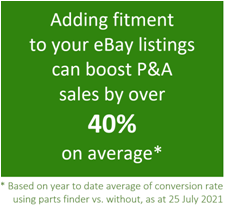 Fitment is the process of tagging products to the vehicles or motorcycles they are compatible with.
Tagging products is usually a tedious and time-consuming task and relies on information being available to confidently identify the right compatibilities.  A body panel may fit all submodels of a particular vehicle series, but a fuel line component might only fit the specific motor and fuel injection system of a small subset of those vehicles.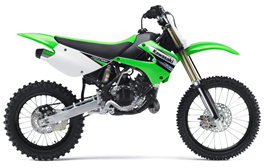 After manually tagging tens of thousands of vehicles over the past few years for our clients, we figured there had to be a faster and more reliable way.   So we developed our own platform that slashes the typical time required for tagging by around 90%. 
With our fitment tagging solution is faster and easier than , you can now do in a day what it would normally take an entire month to complete.
Compatibility fitment on eBay
eBay have implemented a master fitment protocol for sellers to tag their automotive products to, for both passenger vehicles and motorcycles.  Once a buyer selects their specific vehicle or bike on eBay, only listings with fitment for that specific model will be displayed.  Listings without fitment are then excluded from search results. 
Even if you've already deployed a fitment protocol on your own website, you will still need to separately tag your products to eBay's master vehicle list if you want your listings to be included in these search results.
The benefits of applying fitment to your eBay listings are instantly evident just by searching for your products in eBay Search. Not only will your listings be included in the search results whilst the majority of listings without fitment for the buyer's specific model are excluded, but eBay also adds the specific model to your eBay listing title to boost buyer confidence.
Here's how eBay's compatibility experience appears for buyers using eBay Search or eBay Garage functions: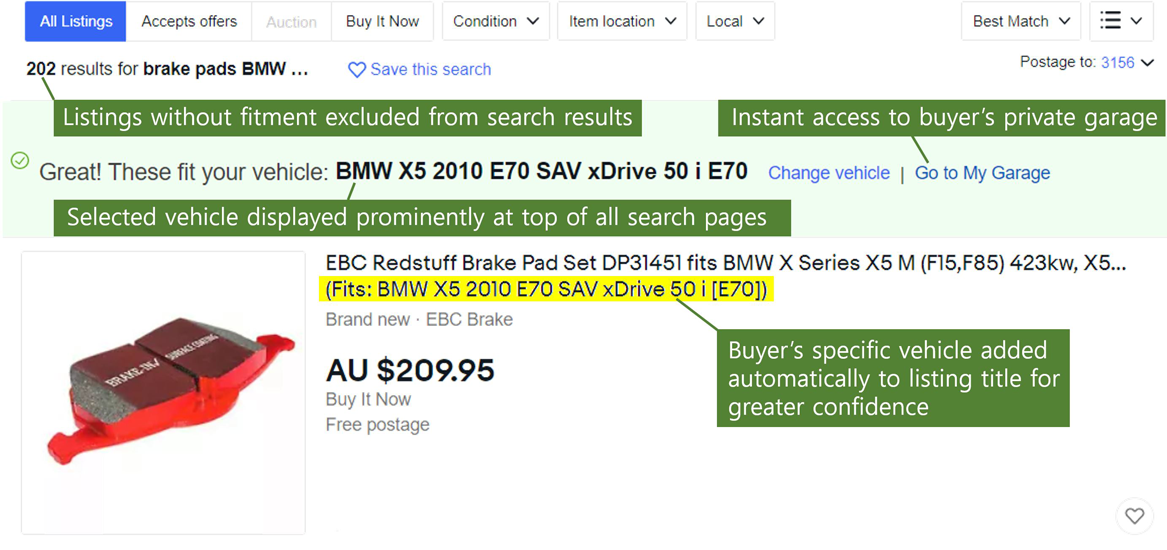 The time and effort of tagging your eBay listings is absolutely worth it because eBay listings with fitment sell substantially more than those that don't.  With fitment, buyer confidence is high meaning they are far more likely to buy, spend more and keep coming back for more. 
Adding fitment to your eBay listings can boost P&A sales by over 40% on average compared to those without it.
Benefits of deploying fitment on your eBay listings
Tagging products to the specific vehicle or motorcycle models they are compatible with has the single biggest impact on any automotive retail business or eBay store almost instantly.  The proven benefits include:
Dramatically increase customer confidence
Reduce burden on pre-sales support
Boost sales conversion
Increase customer spend
Sell more higher priced products
Generate more repeat business
Reduce returns due to incorrect parts being ordered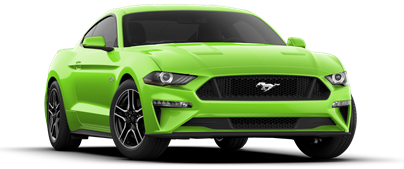 Secure eBay fitment via ZELLIS Connect or Neto
As fitment data cannot be exported from eBay, we recommend that sellers retain full control over all compatibility data by hosting fitment tagging records in an independent PIM which is integrated with your eBay store.  This way if any of your eBay listings are ended you won't have to redo the tagging, and can simply relist them with all of the fitment tagging intact.

ZELLIS Connect and Neto are the only ecommerce platforms in Australia with a native integration to eBay.  All other ecommerce platforms require a third-party middleware solution to communicate with eBay.  Since the tagging data needs to reside with your core SKU records and then flow directly into your eBay listings, we recommend these two platforms as ideal for deploying eBay fitment, and ZELLIS Auto is fully integrated with them.  Neto also happens to be the #1 preferred solution for eBay automotive category sellers. 
If you are using another ecommerce platform for your own webstore, there are several options for publishing your fitment data to eBay including using Maropost Commerce Cloud as a PIM, marketplace synchronisation master and fulfilment solution, or integrating via Codisto, M2E Pro, Omnivore, ChannelEngine, Intelligent Reach or Comestri.  Speak with us to explore the right solution for your eBay business.
Our compatibility tagging platform is super easy to use and we'll provide you with full training to make sure you know what to do and where.  You can create as many staff user accounts as you like at no extra charge. 
There are no lock-in contacts.  Simply pay for a month at a time for as long as you need it. 
Based on our own experience and that of numerous automotive eBay sellers, you could tag up to 200+ listings in a single day, which equates to 4000+ listings a month working regular 8 hour workdays.  Naturally this will vary depending on the quality and availability of accurate and sufficiently detailed compatibility information for your products.
If you're short on time or want to accelerate the tagging process, our Merchant Services team can do the tagging for you.  We have loads of experience with compatibility tagging for eBay. 
Take on a ZELLIS Merchant Services specialist for a month or longer at a fixed monthly rate and you can get on with running your business.
Click here for more information about ZELLIS Merchant Services.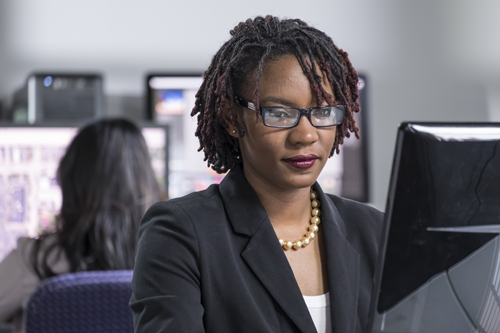 Special eBay Seller offer
Exclusively for eBay sellers applying via the below claim form, you can use ZELLIS Auto for a whole month FREE!
FREE Setup and training including integration with ZELLIS Connect or Neto where applicable

Save $500

Then choose one of the following options:

You tag: Use ZELLIS Auto FREE for a month to tag your own products for eBay fitment* Save $299
Followed by $299 per month
or…
We tag: Get ZELLIS Merchant Services to tag your products for one month at half price

* Save $1975

Terms & additional information

eBay UserID is required.
Offer ends 31-Dec-2023 unless extended.
No lock-in contracts. TecDoc ktypes must be removed upon termination.
Monthly subscriptions continue until cancelled.
Standard rates apply to continue using ZELLIS Auto or ZELLIS Merchant Services beyond the first month.
Multiple staff users can be created under the your ZELLIS Auto account at no extra charge to do tagging even faster.

Speed and efficiency of tagging is dependent on the quality and completeness of compatibility information in your product name and description, or from other external sources.
Click the green button below to provide your business details and eBay userID.
Claim your free month
Click the blue button below to request Maropost Partner Access for ZELLIS so we can integrate with your Neto account for hassle-free deployment of your fitment tagging straight through to eBay.
Request Neto Access for ZELLIS
Complete a direct debit authority – we'll send you a dedicated secure link for this once you've been approved.